Jacksonville (Florida)
City in the US State of Florida
The big city Jacksonville is located in the northeast of Florida.
Jacksonville
state

Florida

resident
height

5 m

no tourist information on Wikidata:
location

Jacksonville
background
Founded in 1822, the city is the administrative seat of Duval County.
In May 1901 a large part of the city was destroyed by a huge fire
arrival
By plane
Although the name of 30,494166666667-81,6877777777778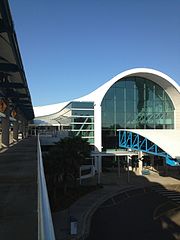 3 Jacksonville International Airport       (IATA: JAX) To the contrary, only domestic flights arrive here, mainly from Atlanta, Charlotte, New York-JFK and Dallas. The most popular airlines are Delta and American Airlines, as well as the low-cost Southwest and JetBlue airlines.
The airport is 14 miles north of downtown. There is a half-hour bus service, and the Rosa Parks Transit Station in downtown is just an hour away.
by train
at 30,3661-81,72339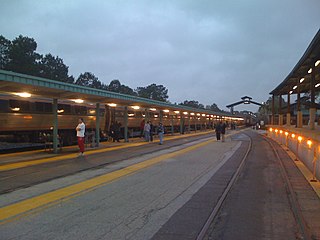 2 Jacksonville station       The two Amtrak night train lines Silver Meteor and Silver Star connect New York with Miami every day. The journey from New York City takes 18-19½ hours depending on the connection, from Washington, D.C. 13½-15½ hours, from Charleston (South Carolina) 4:20 hours, from Savannah 2½ hours. In the opposite direction it is 8½-11 hours from Miami, 8-10 hours from Fort Lauderdale, 5:15 hours from Tampa and 3 hours from Orlando.
The train station is about 8 kilometers from the city center. By bus (line 3) it takes half an hour to reach the central Pink Park Transit Station.
By bus
On the street
On their stretch along the Atlantic coast, from the Keys to the south to the Canadian border to the north, the U.S. Route 1 Jacksonville passes.
By ship
mobility
In downtown there is the 4 kilometer long Jacksonville Skyway, a peoplemover. (h) a lead-less single-rail railway. There are two lines: Northbank and Southbank (the latter runs across the St. Johns River to the San Marco district on the southern shore). The Pink Parks, Hemming Park and Central stations are served by both lines. The Jacksonville Transportation Authority (JTA) operates 46 bus lines. Overall, public transport is rather weak. There is also a free shuttle service to and from the airport. The airport is 10 minutes away by car and the airport is 15 minutes away. Outside of this, you will depend to a large extent on the car.
Downtown and the bordering parts of the city to the west (Riverside, Avondale), San Marco on the other side of the river, and the trendy Springfield district (both sides of Main Street north of Downtown) are within easy walking distance. By the way, Jacksonville is a rather pedestrian-unfriendly city. It doesn't look much better with the bicycle. The best conditions are to bike in the Springfield and Riverside districts on the northern side and Spring Park and St. Nicholas on the southern side of the river.
sights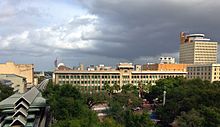 1

City Hall (St. James Building),

117 West Duval St

.
activities
purchase
kitchen
nightlife
accommodation
safety
health
Practical information
excursions